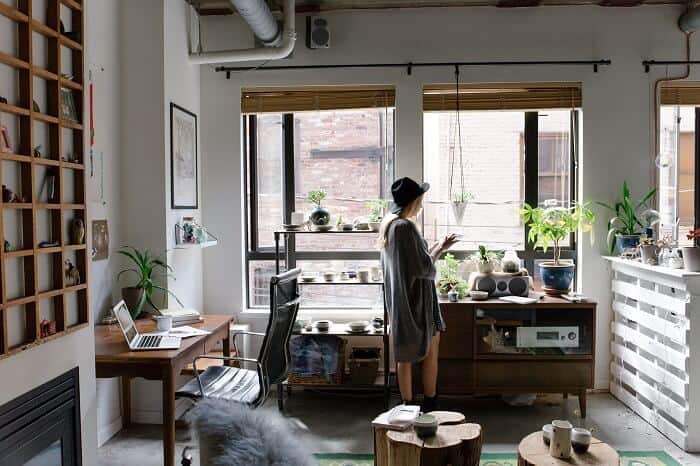 Home offices are a freeing release from the corporate office life, but in some scenarios, renting an office may be more prudent. This decision is primarily for those entrepreneurs who have already seen some success in their industry. While this decision can be often dependent on various personal issues, we have some tips here that may swing your decision one way or the other.
Where would your home office be in the home?
The floor plan of your house may have some major input on the decision of where your home office should go. Is your house designed with a home office in mind, or is your home office just a converted bedroom? If the latter, look at the layout of the bedrooms in the house. If most of the bedrooms are close together, there may be a struggle to get much work done. Most houses of decent size will separate the master bedroom from the rest of the bedrooms to give the parents a chance to get some sleep, but not all of them will separate another room from what would normally be the kids' rooms.
There are other noise and aesthetic considerations to think of when placing your home office. Is it next to or underneath stairs? An open window is wonderful for letting in light and fresh air, but if the neighbor has a noisy chihuahua, you might have chosen the wrong side of the house. Of course, having a room that is spacious enough for your desk and your other necessities is essential, while having too much space can make you feel uncomfortable as well.
Turning your Garage into a Home Office
Depending on where you live, turning your garage into a home office may be an excellent plan. Of course, if you live in an especially hot climate, it may not be the best plan to keep your workspace cool. However, there are benefits if you do not use your garage for its intended purpose of parking cars. There is plenty of open space, and generally the space is fairly plain. Of course, anyone who works doing hardware work at home may have already considered this line. However, it may work for those who really only need some electricity, space, and their home WiFi connection. If this is your situation, consider clearing out some space in that garage and building a workstation. For tips on constructing your workstation, check out this do-it-yourself article: How to Construct a Hardware Workstation [link].•
Building a Detached Homeoffice
If the only place in your home happens to be a wide open backyard, maybe you can build the perfect home office! You have very little to worry about in terms of distractions this way, and it can effectively be exactly what you want. Of course, this can be a huge endeavor as a home office is quite a step up from a toolshed. You will need electricity, internet, air conditioning and/or heating, perhaps a phone line, and you may even decide to have the area plumbed. For a fuller disclosure on how to build your own home office outside of your house without breaking the bank too hard, see our article on How to Build a Detached Home Office [link].
Pros and Cons of Renting an Office
There is a lot more to consider on this issue than simply which will cost more. Obviously, renting an office is an added expense, but it may turn out to be a worthy investment.
Quality of life improvements
If your house is simply too distracting, the home office is just not going to work out. Renting an office takes away the awkwardness of using a suboptimal room in your own home for an office. Of course, renting an office also gives you the opportunity to bring in employees or clients to meet you somewhere besides a Starbucks.
Tax benefits for home offices vs. renting an office
It should not surprise you that running a home office provides some tax benefits, and any business expenses associated with that office are fully deductible. There are indirect expenses for home offices that can have different rules, but to go more fully into all of the tax details of a home office, take a look at our article on Tax Benefits of Home Offices [link].
Also, while having a home office has tax benefits, renting an office provides even more tax benefits. The rent itself can be written off as a business expense for taxes, and any expenses on the office are also deductible business expenses. There are some deductions for home offices that may raise some questions on validity, and there may be some required proof of the size of the home office as well as the use of it. However, rented offices are generally much clearer that the expenses related to them are business expenses, so there should be less questions to answer in your taxes. Your expenses will simply be deducted.
Choosing the Right Rental Office
If you have decided to rent an office, choosing the right location is a must. The last thing you want is a long commute, so choosing something close is essential. Of course, you would also want to have a route to work with low traffic, especially if you intend on commuting during typical rush hours. Having safe parking for yourself is also a necessity, and if you intend on bringing in clients or employees, you will need to choose an office with plenty of parking for them as well.
Being a Good Neighbor
Another thing to consider when choosing an office space to rent is what your neighbors will be up to in their work.
Are you renting this space to do computer work? If that is the case, you surely will not be happy to show up and find that your fellow tenants do noisy hardware work.
If you are doing work where you will have many clients coming in and out, choose an office building where others will be doing so. That office building will more likely have easily followed directions and maps for your clients to use, especially necessary if your business is new to the building. Your neighbors likely will have no idea who you are, where your office is, and will be of no help to your clients looking for you.
Finally, if you are working in an industry where you will be performing plenty of noisy hardware work, you should certainly be choosing an office space where your neighbors will be used to that. The last thing you want is to start a lease and find out you are unwelcome there. Granted, there is a strong chance you will not be accepted for this new lease if your business would be an issue for neighbors.
The Second Best Commute
The only thing better than a commute you could handpick for your work life, as you would with renting an office, would be no commute at all. So if you do have to commute for this rented office, what would make it perfect? Could it be close enough that you could bike or even walk to work if that is a desire of yours? Perhaps, you and your spouse could share a vehicle to save significant amounts of money. Holding onto those gas, insurance, and payment costs from a second vehicle could make the difference in offsetting the costs of renting an office significantly.
Finally, is there a cost parking your vehicle? This should be made clear when you first look into the office building as a potential spot to place your business, but it may not be. Make double-sure that there is no cost for parking if you do not see one.
When is the Right Time to Move into a Rental Office?
Without argument, a brand new business should not be making this transition. An entrepreneur who has established themselves with a chance for success is the one who needs to do this. If you were hiring a manager for your new company, would you look at someone with your resume and hire them? This is not to squash your dreams of opening up a bakery, but take your time, and start small. Most successful entrepreneurs started with some sort of freelance work, seeking out interested clients from their friends and family, then to the streets if they had to. With the age of information well upon us, social media can accelerate your business growth at an astounding rate.
The hard truth of taking it slow with your business growth is that you should never spend money that you do not have. Taking a loan or renting at some point may, of course, be necessary. However, any significant startup costs need to come from your prior success in your business. Keep tabs on your gross income from this business, and only spend large amounts of money on this project if you have earned those large amounts of money.